Lessons from small brewery on staying connected during COVID-19.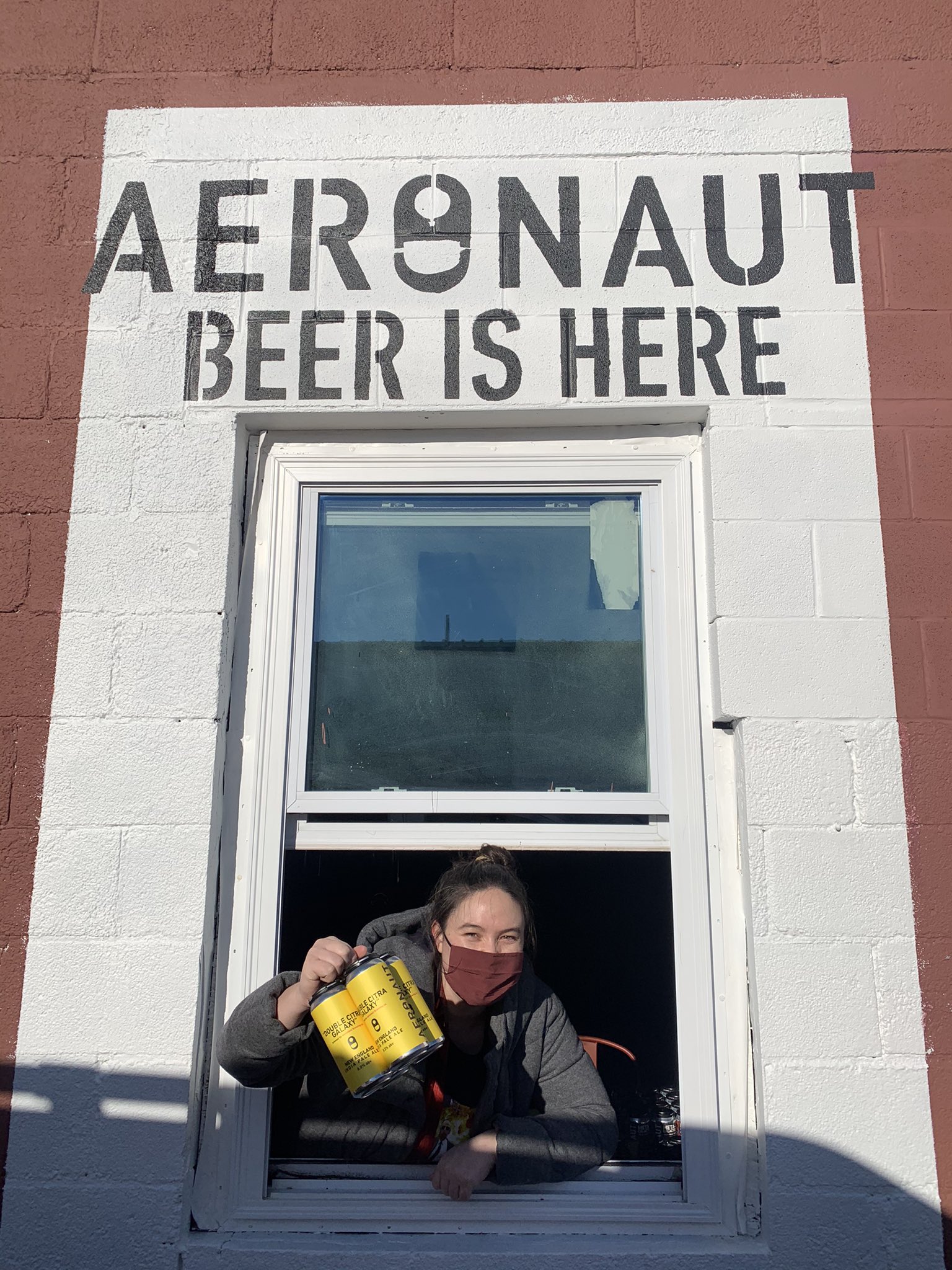 I miss going to yoga. And checking out craft breweries. I know these are trivial hobbies to mourn during the pandemic but it's the simple things I look forward to returning to most when life returns to 'normal'. So when I recently saw a Facebook post for a virtual yoga class hosted by Aeronaut, a local brewery in Somerville, Mass, I signed right up.
I also discovered that @AeronautBrewing was trying a lot of creative new ways to market their products and connect with customers online during lockdown.
COVID 19's Impact
In February 2020, Aeronaut had just expanded to a second location nearby. Within weeks, COVID-19 hit and they were forced to shut down their tap room. As Ronn Friedlander, CSO and a co-founder at Aeronaut explained, they went into scramble mode to save the business.
"We put our noses to the grindstone and started planning. We applied for emergency funding, set up pickup and delivery service. We stopped packaging kegs and rapidly turned over all our beer volume to cans, with new varieties and labels to boot. With the benefit of a kick-ass team of employees who care, and some amazing customers who continued to come to the brewery for pickup and order home delivery, we were all able to turn the ship and begin to navigate this crazy situation."

-Ronn Friedlander
Aeronaut's second location was one of 27 new breweries that opened in Massachusetts in 2020. Twelve others closed down. Many companies like Aeronaut who cater to local customers are struggling. The 2020 Bank of America Small Business Owner Report shows their resiliency, as more than four-in-five small businesses remained open in some capacity amid the pandemic:
38% remained open because they were essential businesses
37% adapted their operations to comply with social distancing regulations so they could stay open
10% pivoted to remote operations
8% closed temporarily
Social media may have been an afterthought for some small businesses before the pandemic. Now it's vital. At a minimum, social media is a means for customers to know what you're selling and where and when they can get it. At its best, it turns customers into loyal brand ambassadors motivated to support and engage with you.
Find Your Customers Online
Aeronaut keeps customers informed of new beer releases and other happenings through Facebook, Twitter, and Instagram. They keep their community engaged through great content and hosted over 200 events in 2020, including scavenger hunts, and virtual trivia and book club nights.
Your customers may be stuck at home, but they're still out there and looking for ways to connect. And there are exponentially more customers online beyond your local reach that you can market to digitally.
So whether you want to expand your sales internationally or just strengthen ties with your neighborhood customers, it's time to up your social media game. Don't panic. Take a few Social media tips from Aeronaut:
First things first: Showcase your products on social! Take beautiful photos of them and describe them with flair. Make them easy to purchase.
Most of us are spending more time online these days. Use this opportunity to produce unique content that doesn't just sell, but informs and entertains. Aeronaut publishes their own cool blog with content ranging from local artist spotlights to tips on brewing and pairing beer. Encourage your readers to comment and share.
As technology becomes a means to make us feel less isolated, small businesses play a key role in fostering fun and supporting local communities. In addition to Aeronaut's full virtual event calendar, fundraisers like the One Song One Dollar Page support local musicians and offers us some great entertainment. Win-win!
Think about what your customers need and how to deliver it. Are there new products or services you can produce that are in demand? Like a lot of breweries and distilleries, Aeronaut is able to package and donate hand sanitizers to organizations in need. They also started selling cans to go through a drive-through window and even posted a fun quick video of the road trip to the window.
The pandemic has forced most businesses to upend their old strategies to survive. Pivoting to a digital marketing strategy may seem daunting, but it can be a natural expansion of the engagement you've already formed with your local customers. You don't necessarily need a lot of money or resources. Start with a simple social media strategy and follow some inspiration from Aeronaut and other businesses who have creatively pivoted.
And when it all gets too much, I recommend some downward dogs and a Belgian ale. Cheers.
Did you lean into social media to save your business this past year? Share your own tips in the comments below! Small business owners, follow us for continued insights.
Category: Social Media Marketing 201